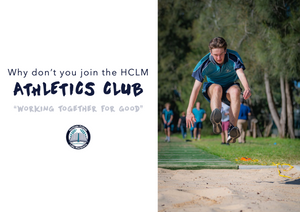 2023 Athletics Club Ticket
Regular price $0.00 $25.00 Sale
We are excited to launch an 8 week
 Athletics Club training program for students who are eligible to go to HRIS carnivals (students born in 
2015 or before
).
This program will be on Mondays after school on the following dates:
May 8, 15,  22, 29, June 5 & 19 Jul 24 & 31

Sessions will start at HCLM at 3:10 and pickup by parents should be at 4:30 pm.
Two of the sessions will be off site at Wangi Wangi and pickup at HCLM will be 5.30pm on those afternoons to provide for travel by bus to Wangi Wangi. These dates will be communicated to parents via the Parent Portal.

Each afternoon, students will participate and get instruction in 3-4 events including: Sprints, Middle distance running, Relays, High jump, Shotput, Long jump & Discus.  (Please note that we cannot offer training in Javelin this year as we cannot do javelin at HCLM or at Wangi Wangi as they have a football club training there at the same time.)

The cost for these 8 training sessions is $25 per student and includes training, travel to Wangi Wangi,  and fruit snacks each week.  (Please note – the sessions will run 'weather permitting' and we cannot issue refunds for any missed sessions due to bad weather or other reason)