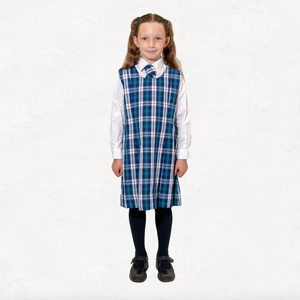 Primary Tunic
Regular price $69.50 Sale
The girl's winter tunic is an attractive winter weight tartan material.  It is a poly/cotton blend fabric.
The tunic has pleats in the front and back with a zipper down the back and a zipped pocket in the side seam.  It is designed to. have a blouse worn underneath. The tunic hem should not be more than 5cm from the knee when kneeling. 
Uniforms can be collected from the Uniform Shop on a Wednesday or Thursday or alternatively online orders are dispatched to your children after the order is placed.  Collection of uniforms is possible only after payment is made in full. Please contact the Uniform Shop on 49773456 if you have any further questions.
The HCLM Online store is a service designed for the sole use and convenience of the Heritage College Lake Macquarie Parents and Community. No products will be shipped from this store. All purchased items must be collected from the HCLM Office by the relevant parent or student.